Animal Chiropractic Testimonials
Allie - Beagle Mix
When Allie, my beagle mix, was 12.5 years old I noticed she was gradually slipping more on the wood floors and showing weakness in her back legs. Eventually her legs started giving out on her and she was falling over on a daily basis. My vet suggested I take her in for an MRI and she might possibly need back surgery. That was not a viable option for us mainly because of her age and difficult recovery process. I then looked into Chiropractic services and decided I would bring her to Dr. Rebecca for a consultation.
It only took one visit for her to be standing up straighter and only a few visits for her to stop slipping and falling over. Now, with regular chiropractic adjustments, she is running around like a puppy again!
Allie just turned 15 years old and I believe she might not have had such a great quality of life the last couple years if I had never taken her in for her first adjustment. I'm so happy I have been able to have these additional years with Allie! I really feel Allie is not "just a patient". Both Dr. Rebecca and Stacie really care about Allie & me.
- Julie G.
---
Serenity - Dachshund Puppy
As soon as Serenity came home with me at four months old, I decided to start her on a clear path to optimal health. I feel that chiropractic care is one of the most important ways I can ensure my baby's physical, mental, emotional and nervous system health for life. Little puppies are swift, fast, clumsy and adventurous to say the least. Falls, twists, tumbles, etc. Imagine your body going through that on a regular basis! Having regular maintenance chiropractic care can stave off problems as well as go a long way towards ensuring greater overall health and well being. I know I want my baby to be healthy and feeling terrific. I can only say this; do all you can to ensure your baby is feeling optimal. Dr. Becca is amazing and will take care of them like her own.
- Dana E.
---
Teejay - Horse
I was invited by a friend to watch Dr. Rebecca work on their horses. Dr. Rebecca was knowledgeable about equine TMJ and I suddenly had hope for my horse Teejay. After starting chiropractic appointments with Dr. Rebecca, in conjunction with using a specialist in equine dentistry and bare foot trimming, Teejay's gait and overall condition has improved. As soon as he gets his dental work or trim done Dr. Rebecca is my next call. After chiropractic adjustments Teejay has more movement in his mouth than I have ever seen and the swelling in his face is now gone. He is on track for being ridden again and he is happier and more relaxed.
- Ann L.
---
Ashlee — Dalmation
"Dr. Becca is a life and heart saver. Our 14 year-old dog, Ashlee would have had a painful and short life it was not for Dr. Becca. We would have lost our dear Ashlee at least a year earlier than we did if Dr. Becca did not come into our lives. Ashlee's last 12 months were comfortable, active, and possible because of Dr. Becca. She was very in tune to Ashlee's heath and spotted a bladder infection days before Ashlee showed any signs or symptoms. Ashlee had surgery and Becca found the areas of concern right away at our initial consultation. If you are a dog parent, especially with an older dog... you simply must consider Dr. Becca and Animal Chiropractic. Dr. Becca postponed the heartache of losing our dog. Ashlee lived a quality life up until her last hours. She finally passed because her old body simply shut down. I am so thankful to Becca, she was part of a caring chain of people and places that gave Ashlee several years of a happy life. Thanks you to her, the University of Minnesota Animal Neurology Department, & Kim and her wonderful Animal Rehab crew at the U."
- Kellie R
---
Sadie — Collie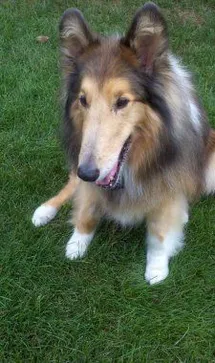 "We were referred to Dr. Amstutz in August of 2011. We have a 12 & 1/2 yr old Collie who has had a laundry list of health issues, but in spite of all, is doing quite well. Her biggest issue at this point is mobility. Rebecca has done a remarkable job of increasing her flexibility and mobility. Then, in October our girl came down with a nasty case of Vestibular Disease. Dr. Rebecca quickly recognized it; our vet confirmed it and we were told it would be 3 - 4 months of recovery. Dr. Rebecca was all over it!! Sadie has made a remarkable recovery after only 6 weeks. (It has been six weeks of intense care, but she's doing great!) We are doing well. We are on weekly adjustments and Sadie is responding. She looks forward to seeing our Dr. Rebecca once a week. Don't hesitate to call Dr. Rebecca. She is the best! (She will tell you, in humility... 'in chiropractic they teach us that the body heals itself; so Sadie is only healing herself.' ) That might be true, but our Dr. Rebecca is a miracle worker and Sadie and I both know it!"
- Karen Larsen
---
Sidney — Yellow Lab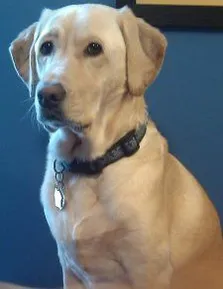 "Dr. Rebecca is great at what she does with animals. My dog Sidney (Yellow Lab) had some left pelvis/hip issues and Dr. Rebecca treated her with great results. Today, she comes over to help maintain our positive progress and to prevent the issue from coming back. Every time we even mention Dr. Rebecca's name, the wiggles don't stop! I recommend Dr. Rebecca to everyone with a pet. If she can't help you she will find someone for you who can. She does great work with a wide variety of conditions!"
- Dr. Scott A. Mooring, DC, CCSP
---
Rojo — Dachshund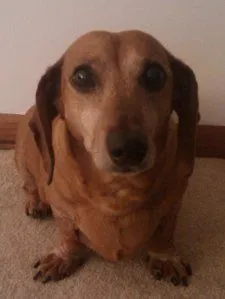 "In January 2010 my dachshund (Rojo) had an injury and it resulted in her not being able to move her back legs or go to the bathroom regularly. There is a huge difference from where were in January 2010 versus now after chiropractic care. It is now October 2010, ten months since the injury. After several visits with the chiropractor, she is walking and running around and going to the bathroom on a regular basis. There is a difference in my dog's attitude too. She is happier. I believe that chiropractic care saved my dog."
- Vicki
---
Paco — Bijon Friese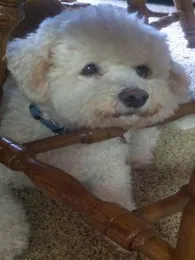 "Dr. Rebecca is a skilled animal chiropractor, having helped to rehabilitate my Bijon Friese after being in a car accident. Now, when I mention Dr Rebecca to my Bijon, he becomes very excited ... i.e. He cannot wait to see her again!"
- Gene Wood
---
Betsy — Black Lab
"Dr. Becca is a top-notch animal chiropractor. We have found her to be professional, deeply knowledgeable in her subject matter, super easy to work with - and animals love her! She is our number 1 choice to treat our senior black lab who began experiencing several back issues in the last year due to her increasing age. I highly recommend Dr. Becca to anyone looking for animal chiropractor services as her regular treatments have made noticeable improvements in our black lab's muscle and joint movements.
- Ann & Paul
---
We value our patients' experience at Perpetual Motion Animal Chiropractic. If your pet is currently a chiropractic patient, please feel free to complete the following Client Experience Questionnaire. The Questionnaire is in Adobe Acrobat format, and requires the free Acrobat Reader to view.
Download & Print Questionnaire
Dr. Rebeccca Amstutz
Your Twin Cities Pet Chiropractor